South Carolina Athletics, along with the men's and women's golf programs, unveiled the new Gamecock Golf Facility in a ribbon cutting ceremony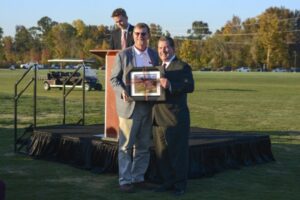 Friday afternoon.
The 17-acre facility, located behind Gamecock Park and minutes from the University's main campus, was designed by South Carolina alumnus Beau Welling and built by USC Foundations through several generous donors.
Men's golf coach Bill McDonald, women's golf senior Katelyn Dambaugh and South Carolina Athletics Director Ray Tanner began the ceremony by thanking all the donors for making the facility possible.
Following the opening remarks, Tanner, McDonald, women's golf coach Kalen Anderson and several key donors took part in cutting the ribbon to officially open the complex.
The facility, which features over 400 yards of hitting space and three greens totaling 18,000 square feet, will allow the Gamecocks to tailor their practice scenarios with fairways designed to provide for a multitude of hitting options. The complex will simulate tournament-like conditions, and the three greens and five bunkers will allow players to work on their short game at a convenient location.
"It's going to help us build on the momentum that we have already started," Anderson said. "It's going to give our student-athletes more efficiency in how they practice."
Both Carolina golf programs have advanced to the NCAA Regionals in each of the last 18 seasons. The men have participated in the NCAA postseason in 21 of the last 22 years, advancing to the NCAA Championship in each of the last four years.
The women's program has advanced to the NCAA Championship in each of the last seven seasons, and the Gamecocks have won a NCAA Regional title four times during that span, including the 2016 Baton Rouge Regional this past May. Carolina was the only SEC school to have both golf programs reach the match-play quarterfinals at the 2016 NCAA Championship.

Article Courtesy of Gamecocks Online.